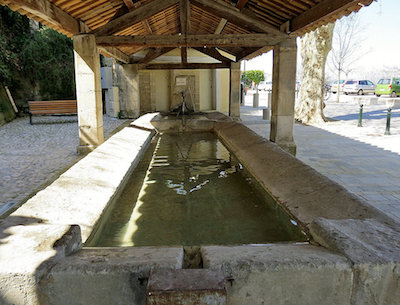 CONSTRUCTION PROJECT AT THE ENTRANCE OF THE VILLAGE
The grounds below the washhouse ('lavoir') are declared constructible. The Mairie has initiated a consultation for the drafting of architectural specifications for this building area, both public and private. We have been consulted and are rather reassured of the aesthetic objectives to be pursued, even as we await the drafting of the final file.
However, your Association and its members still remain mostly dubious about the impact of any construction in this area. We must mention that the Mairie/City Council is planning to build on its own behalf on its land and, if necessary, on behalf of the private owner. The Association will follow closely the evolution of this file, especially as it believes :

that the site of the Medical Centre must be completed and its financial budget achieved, before any commitment of a new construction operation by the village.
that there are other priorities, such as the renovation of the old Town Hall.
that the sensitivity of this site remains very strong for the villagers attached to the entrance of the village.
that our community has other priorities to consider other than merely constructing buildings.